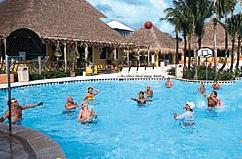 Pool Volleyball at Cozumel ... a popular past-time.
Reef Club Isla Cozumel, Mexico, Sept 1998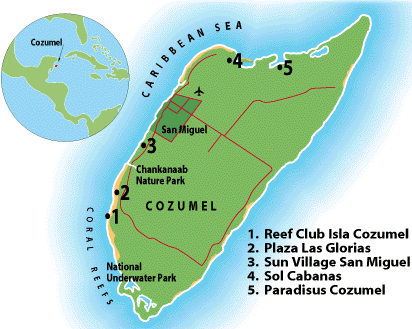 Cozumel was not our first choice. After Bavaro Beach in 1996, we thought to try score one of those last-minute deals with a tour operator, since some of the people who had accompanied us to the Dominican had paid significantly less than us with this same strategy. It didn't work at all for us, since the week in April we were looking to travel was sold out for many of the destinations.

Coxumel was our second choice ... and it was wonderful. The Reef Club Isla Cozumel was a new resort with wonderful facilities. We spent the days on the beach, in the pool (they are playing "pool basketball in the photo above this column, but I spent many hours in scenes just like this playing "pool volleyball"), in the ocean, playing tennis, with the odd sortie for horseback riding and scuba diving. We met some wonderful new friends from Toronto with whom we shared a day trip to the Mayan ruins at Tulum and the snorkelling haven of Xel-ha.

Picture List: (Use your back button after you've clicked on a picture to return to this page.)

Click on this link for a list of the shore based photos.
Click on this link for a series of underwater photographs from snorkelling and SNUBA!.

Location of "Reef Club"